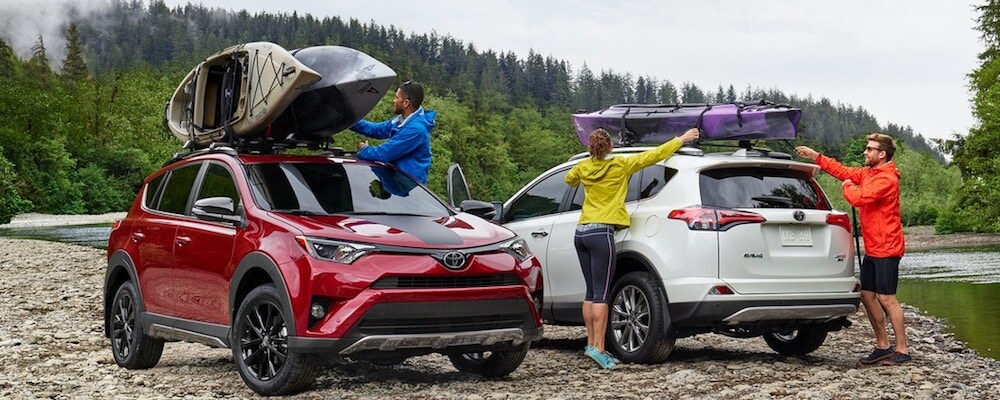 Let's push your limits — in and out of the city. Introducing the all-new, all-inspiring 2019 Toyota RAV4. A familiar name that's anything but the same. The radically new RAV4 breaks the mold once again by maximizing the blend of sport and utility with three distinct versions — the premium Limited, the rugged Adventure grade and the sporty XSE Hybrid. Whether your adventure involves getting familiar with what's in and around town or taking it beyond the pavement — there's a RAV4 that empowers your ambitions and redefines what you can do. It's time to live life to its fullest.
COMFORTABLE RIDE RAV4's- A longer, wider stance makes the handling more responsive, while a stronger core gives you a ride that is smooth and confident. The platform also creates a naturally spacious interior with a better view of the road.
DYNAMIC TORQUE VECTORING AWD WITH REAR DRIVELINE DISCONNECT- Enjoy an upgrade in all-wheel-drive performance that is paired with impressive fuel efficiency. Available Dynamic Torque Vectoring All-Wheel Drive (T V-AWD) improves responsiveness and stability by sending up to 50 percent of the power to the rear and then further distributing more power to the wheel that needs it. To boost fuel efficiency, Rear Driveline Disconnect will stop sending power to the rear when it isn't necessary.
DRIVE MODES-Three distinct drive modes let you tailor RAV4's driving dynamics to match your mood. Sport Mode provides sharper acceleration, ECO Mode helps maximize fuel efficiency and Normal Mode blends fuel economy with performance.
MULTI-TERRAIN SELECT-Offering you more capability when the pavement ends, RAV4 now features standard Multi-terrain Select on All-Wheel Drive (AWD) gas models. Choose between three modes (Mud and Sand, Rock and Dirt, and Snow) for improved traction. When activated, the system can sense slippage and will regulate wheel spin by automatically adjusting the engine throttle, brakes and drive-force distribution — helping to maximize driving performance on different surfaces.
MULTI-LINK REAR SUSPENSION- Enjoy a smooth ride that delivers driving confidence. RAV4's multi-link rear suspension improves handling and control by working with its natural body rigidity in order to keep traction steady.
GROUND CLEARANCE- Don't sweat the small stuff. RAV4's ground clearance lets you easily handle off-road trails and pathways. The ride height also gives you a more confident view of what's around you.