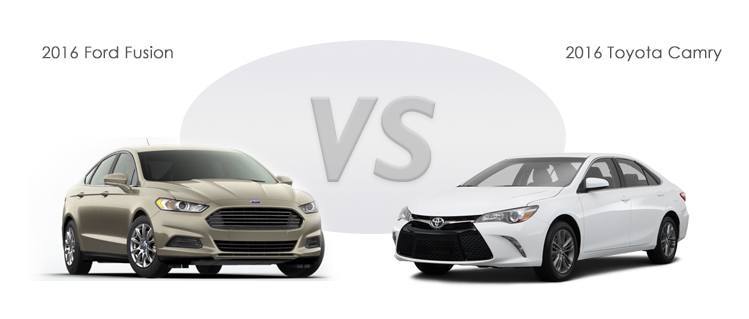 Two great vehicles to consider if you're in Prince Frederick area, and in the market for a stylish and dependable family sedan are the 2016 Ford Fusion and the
2016 Toyota Camry
. Both are good, solid choices, so it can be difficult trying to decide which is right for you. We'll try to cover some of the features and highlights of the base models to help you choose the vehicle that best suits your needs.
INTERIOR AND TECHNOLOGY
The 2016 Toyota Camry has the quieter ride, but both models come standard with roomy, contemporary interiors, sleek lines and quality materials. The Camry edges out the Fusion when it comes to simple and intuitive climate controls and audio systems. With rearview cameras, Bluetooth, infotainment systems, adaptive cruise control, plus many other standard features, the Fusion and the Camry both impress with integrated technology.


Performance
Standard on the 2016 Camry is a 178-horsepower, 2.5-liter, 4-cylinder engine with six-speed automatic transmission, boasting fuel efficiency of 25/35 mpg city/highway, while maintaing a smooth, quiet ride. Standard on 2016 Ford Fusion gas models is a 175-horsepower, 2.5-liter four-cylinder engine. Although the Fusion's base engine is slightely underpowered when compared to the Camry, it attempts to make up for it with its agile handling.


Our Vote
The Toyota Camry is the best-selling car in America for 17 of the last 19 years[1]. According to US News, the 2016 Toyota Camry scored an overall 8.7 compared to the Fusion's 8.4 score, and is
ranked #3 as the most affordable Midsize car
. With the 2016 Toyota Camry starting at just over $23,000, and the Ford Fusion starting at just under $23,000, we think the choice is clear and give our vote to the Camry. But why take our word for it?
Contact us
with the form below, or come in to
Bayside Toyota in Prince Frederick, MD
and schedule a test drive today. See for yourself why we think the 2016 Camry will win you over.
[1] Based on manufacturer estimates, 2014 sales.